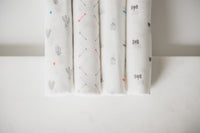 Reusable cloths you'll actually want to reuse.
Made for the minimalist diaper bag, these cloths go from washcloth to burp cloth to napkin in a flash. Big enough to cover a large area, soft enough for sensitive skin and thin enough to clean between those (adorable) leg rolls.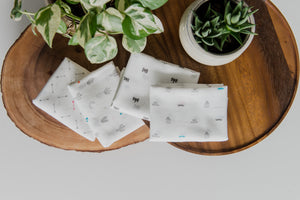 Must-have for the modern parent.
Built for whatever spills, spit ups or surprise tantrums come your way.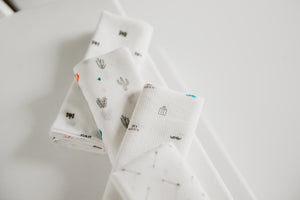 Kid-safe. Earth-friendly.
Replace single-use wipes, napkins and tissues with kid-safe cloths that are strong enough to withstand multiple washings.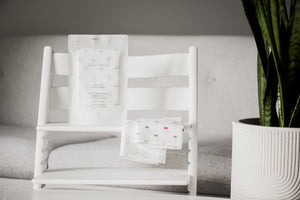 Wipe, wash, repeat.
It's a sticky, snotty world out there. When these 100% cotton muslin cloths get dirty, just throw them in the washer and dryer with your regular laundry. (Bonus: they'll get softer each time!)
Customer Reviews
Love the simple cute designs and the quality of fabric. I've used and washed all my spilt milk cloths several times now and they just get softer with each use. My LO doesn't fuss when I wipe his face with these clothes and they're durable enough to get the job done. Will definitely buy more for gifts and more for myself! Functional and super cute!

MC
Absolutely love these! I use these for both my toddler and new born! I wash them quite frequently and find the quality is still great, durable, and soft! They also do not pill after wash, which is great! Love the cute designs and packaging! 

Annie
Love these cloths! Soft, durable, easy to pack and adorable. The super soft fabric worked extremely well for my family who has sensitive skin. Even made masks out of them for the little ones!

Jen